Juaniece Miller – Product Manager – User Experience UX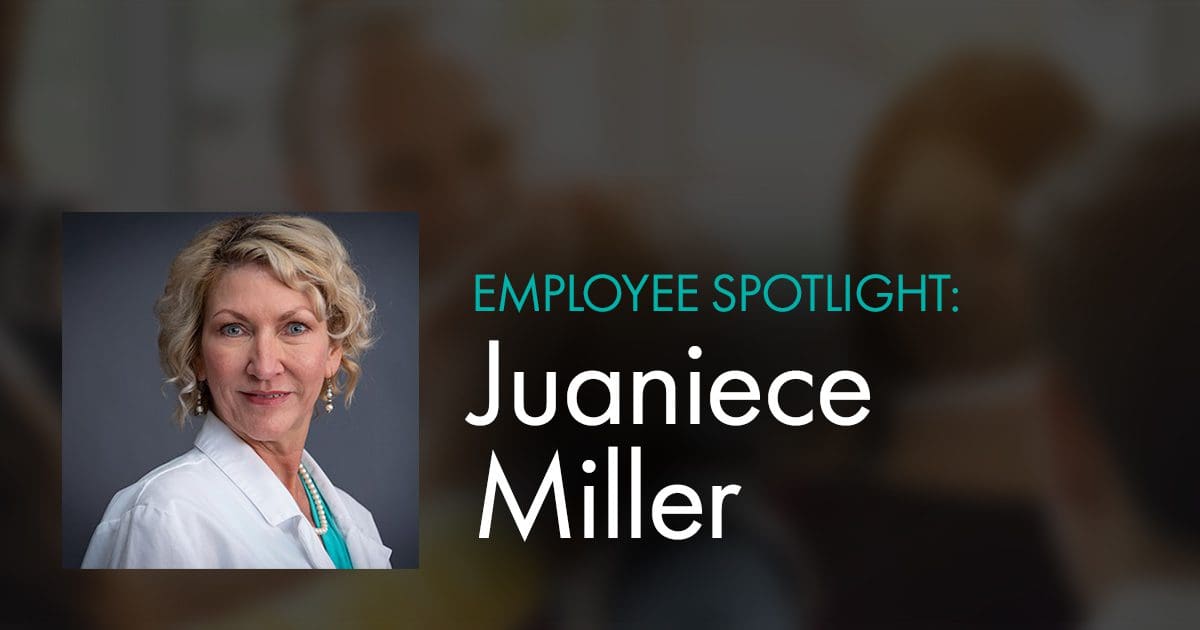 What do you do for Datalink Software?
I am a Family Nurse Practitioner working in the role of Product Manager over UX or User Experience. As a Nurse Practitioner and an "end-user", I can identify with our users needs and requests. By understanding our end-users' workflow, needs, and challenges, I can assist in translating this "user-desire" back to Datalink developers and teams for expanding our EHR and population health management platforms.
Do you have a nickname?
Do you have a favorite quote:
I really have 2!
Try to be a rainbow in someone's cloud.

Maya Angelou
The foundation stones for balanced success are honesty, character, integrity, faith, love, and loyalty.

Zig Ziglar
Before working at Datalink, what was the most unusual or interesting job you've ever had?
Prior to DataLink, I had an interesting Nurse Practitioner position (honestly all are interesting!) I had the honor of changing peoples' outlook and demeanor – every day! I was working in a clinic where I did vein sclerotherapy, Botox, fillers, lasers, body sculpting. It never ceased to amaze me how my patients seemed to instantly improve in spirits and exude optimism after treatment! I loved getting to see those transformations! My patients grinned from ear to ear and seemed to float out of the office on a lofty cloud!I should also mention another interesting situation while I worked at a dermatology, allergy, asthma clinic. I had a patient who presented with unique and interesting skin lesions and no apparent related history. I biopsied several lesions, including the larger lesion to one arm that was described as "zinging tingles". Two weeks later, my patient was shocked to hear that this was Hansen's Disease, or leprosy! After discussion, we then learned that he lived in a rural area where he gardened (without gloves) and also would trap armadillos in and around his house since they were tearing up his yard. He said they were rampant.Armadillos, in the southern U.S. are often infected with the bacteria that causes leprosy, or Hansen's disease and can spread to humans.That same week, I had another patient who had been diagnosed with a different skin disorder, granuloma annulare and had no improvement for the past year. Those lesions appeared so similar to my first patient, that I recommended a biopsy. Indeed, this patient also had Hansen's disease! This patient often used to eat armadillo as a child.In speaking with the CDC, I learned that there were very few occurrences of Hansen's disease.
How did you first learn about Datalink?
I first learned about Datalink, as a Nurse Practitioner, while managing my panel of patients in a clinic, using Datalink's EHR: EvokeEHR (then Trinity). As an NP who had used many different EHRs, I was (and still am) highly impressed at how user friendly the EHR was and how clean and uncluttered the screens were.I found it easy to quickly and efficiently document my patient visit and order meds / diagnostics without a lot of "key clicks" and without confusing screens!I found that the EHR provided me pertinent information – but not overload or nonproductive keyboard time!I also enjoyed using Datalink's Evoke360 (then CareBook) for easy access to patient information, such as HEDIS, gaps, etc. That information was key to effectively managing my patients' chronic conditions (most of whom also, knew me as a child, growing up!)
How has Datalink helped you in your career development?
Datalink has provided myself, a Family Nurse Practitioner, with the opportunity to not only use my clinical knowledge here at Datalink, but also to provide insight for the company on how a Provider, RN, healthcare staff might use Datalink's platform. I am also able to discuss other aspects of our platform with clients, given that I have a business background and MBA.My clinical background and knowledge of Datalink products would segue into my role as Product Manager over User Experience for Datalink platforms.Additionally, Datalink has provided me with significant opportunities for gaining knowledge in the software realm.
What do you like most about Datalink?
Datalink has some of the nicest and most welcoming folks around! I continue to be impressed by how welcoming and friendly this organization is!
Do you recall any embarrassing moment at work?
I walked into an exam room to see my patient, whose head, arms and legs were covered in aluminum foil.He was standing on the exam room chair attempting to cover the windows above with additional aluminum foil.He was clearly distraught and talking constantly, as he fumbled with the foil, while trying to stand on the chair, then tried to jump over to stand on the exam table.As I walked into the exam room, I asked if I could help him in any way.Since I was looking up and rushing in (so that I could prevent my patient from falling by standing on the exam table) I failed to see sacks of aluminum foil on the floor, and tripped over those and went flying across the room, slamming into the exam table, with patient plopping down onto exam table! Thankfully no one was hurt, but I was sure embarrassed that I had failed to make sure the area was safe for walking.Thankfully, my patient was distracted from my antics, and forgot about the windows before he told me his story of aliens shooting radioactive waves at his head to destroy his brain and his skin.
---
---