DataLink hires new vice president of clinical transformation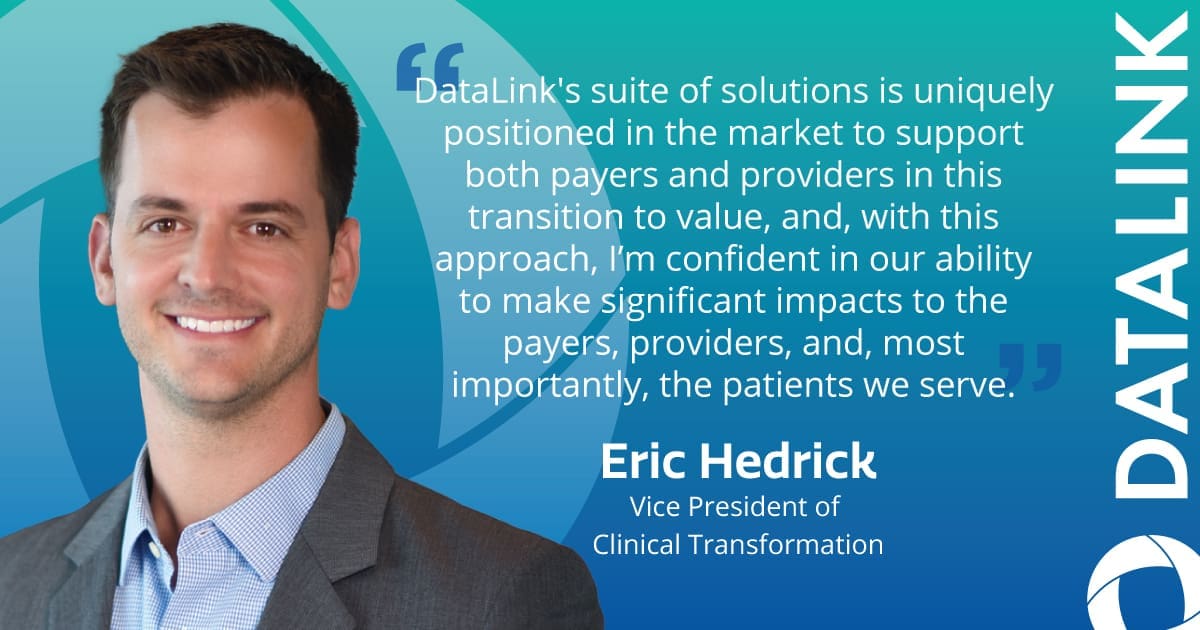 Tampa, Fla. (April 19, 2023) — DataLink, a leading provider of data-driven solutions for high-quality, value-based care, today announced Eric Hedrick as its new vice president of clinical transformation.
Hedrick brings his depth of experience in healthcare, including actuarial work, provider engagement, and risk adjustment leadership in the vendor and health plan spaces, to this role, with a mission of supporting value-based care in ways that benefit the plans, providers, and patients. 
"We're excited to welcome Eric to the DataLink team. He's poised to support DataLink as we move toward the future of value-based care with leadership in analytics and risk adjustment, value-based care experience, and, most importantly, his passion for helping providers," said Josh Hetler, chief operating officer, DataLink.
Hedrick joins at a time when value-based care has the potential to positively impact both the outcomes and the cost of care. But transition to value-based can only be successful if there are solutions that support providers at scale.
"This is a space the entire leadership team at DataLink is passionate about, and I'm extremely grateful to be able to contribute," said Hedrick. "DataLink's suite of solutions is uniquely positioned in the market to support both payers and providers in this transition to value, and, with this approach I'm confident in our ability to make significant impacts to the payers, providers, and, most importantly, the patients we serve."
Hedrick will continue expanding DataLink's platform into additional risk adjustment models for Medicaid and ACA/Exchange members. This will solidify DataLink's platform as one that not only addresses value-based care enablement but all facets of risk adjustment analytics.
Prior to DataLink, Hedrick held the role of vice president of analytics at Advantmed. He's also worked at Priority Health, Cigna, and Pulse8, where he directed the provider-facing solutions that played key roles across analytics. Hedrick holds a bachelor's degree from Grand Valley State University.
Contact
Lori Taylor
813-220-9702
marketing@datalinksoftware.com
---
---