EMR versus EHR: What's the difference?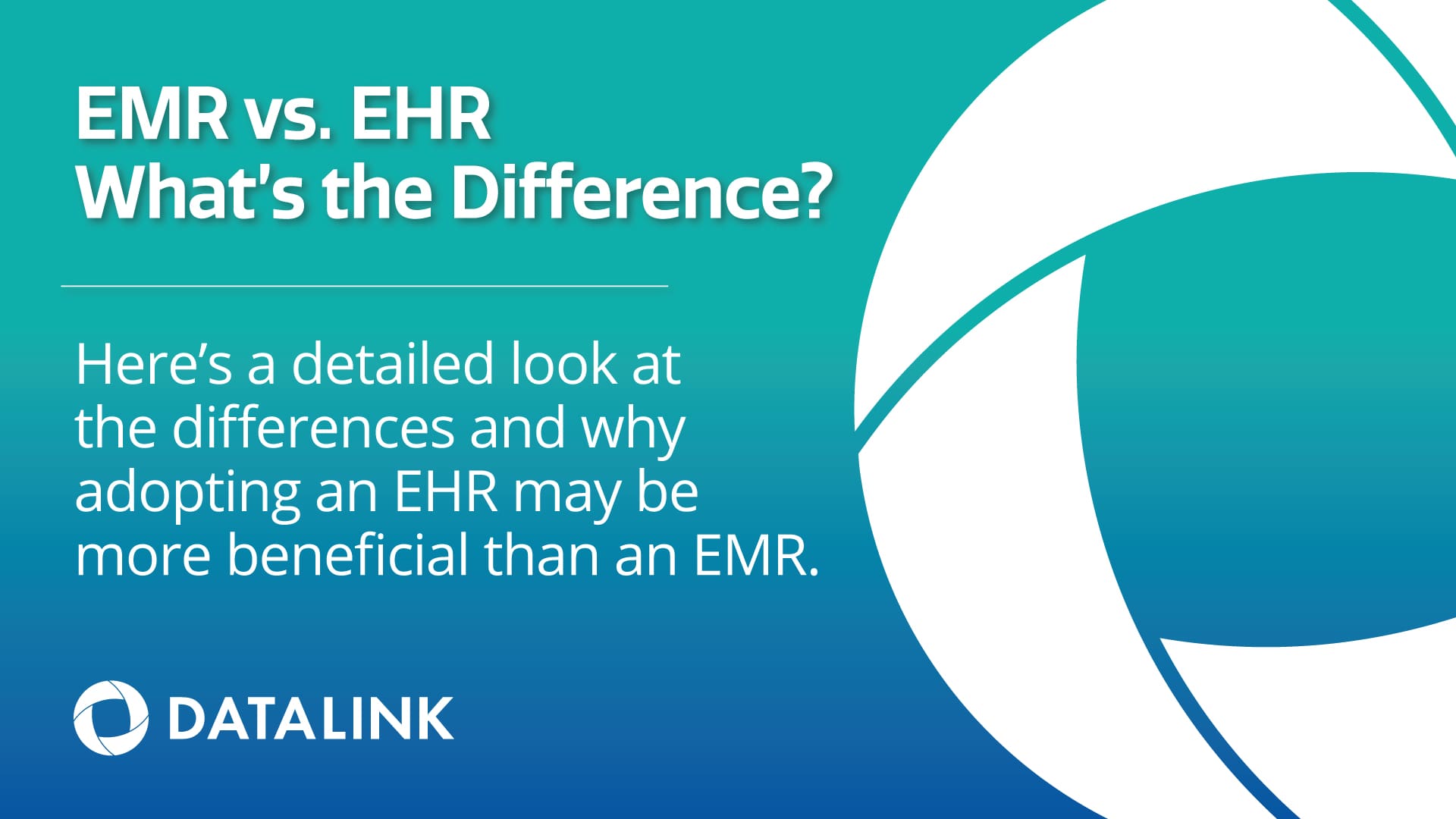 The terms electronic medical record (EMR) and electronic health record (EHR) are often used interchangeably, but the difference between the two is significant. According to the Office of the National Coordinator for Health Information Technology (ONC), EMR relates to medical use by clinicians primarily for diagnosis and treatment, while EHR covers more than medical to encompass health as the general condition of body and mind.
Here's a detailed look at the differences and why adopting an EHR may be more beneficial than an EMR.
Understanding EMR Limitations
EMRs contain the digital medical and treatment history of a patient. They are able to track data over time, identify which patients are due for preventive screenings or checkups, check patient progress and help improve overall quality of care within a health care practice or health care organization.
When it comes to interoperability and portability, however, EMRs are not much better than the traditional paper records because they do not travel easily outside of the practice. In fact, they must be printed out and delivered to specialists and other members of the care team.
Advantages of EHR
EHRs focus on the patient's total health and transcend standard clinical data to provide a much broader view of patient care. What's more, EHRs are designed to share information with other health care providers, such as laboratories and specialists, and contain information from all the clinicians involved in the patient's care.
EHRs also make it possible for a patient's information to follow him or her through the various stages and locations of their care. Because they are accessible by authorized individuals involved in the patient's care, including the patient, they meet the need for "meaningful use." Information that can be shared in a secure way, makes EHRs more relevant and empower care teams by enabling more effective communication among stakeholders.
EHRs have three important differentiators:
Interoperability – Because an EHR communicates with other systems—known as
Interoperability – EHRs can be used for documentation, medication management, clinical decision support, reporting and analytics and results management – to name a few.
Accessibility – Unlike EMRs, EHRs are accessible by patients because of their interoperability, which requires records standardization.
Security – Because EHRs hold the entire journey of a patient as they move from one clinician to the next, security around this sensitive information is essential.
Pros and Cons
Both EMRs and EHRs offer value for healthcare organizations. While hospitals and larger health organizations typically use EHRs to provide a comprehensive view of patient care, they may also use EMRs to track specific patient data over time to help create patient-specific health plans.
But EHRs also facilitate data sharing across multiple levels of a healthcare organization — from emergency room doctors and nurses to specialists and management teams — without adding operational burdens.
For individual practices, EMRs offer an easy entry into digital data collection, making it easier to store, retrieve and access information, while limiting duplication and inaccuracy.
EHRs also offer value for smaller practices that regularly refer patients to specialists or other clinics because they are interoperable and significantly reduce the amount of time and effort required to ensure transferred records are easily accessible.
Both EMRs and EHRs help make healthcare more efficient and less costly. However, to go beyond basic clinical data and focus on the total health of each patient, EHRs help to promote a national health IT infrastructure during a critical time for the nation's healthcare system.
Certified EHR and EMR Usage Trends
EHRs represent the future of healthcare because they provide critical data that can help providers better coordinate care across the healthcare system. According to the Centers for Disease Control and Prevention (CDC), 89.9% of office-based physicians use any EMR/EHR system, while 72.3% use a certified EMR/EHR system.
A fully functional certified EHR technology (CEHRT) system delivers what most practices are seeking: seamless integration, improved coordination of care, increased patient engagement and satisfaction, enhanced quality of care and greater efficiency and cost savings.
To secure and share patient data efficiently, providers need an EHR that stores data in a coordinated format. This enables patient information to be easily retrieved and transferred and allows providers to utilize an EHR to improve the patient journey.
Regardless of the terms, whether its certified EMR technology (CEMRT) or CEHRT, for the purposes of the Medicare and Medicaid Incentive Programs, eligible professionals must use CEHRT.
Choosing the Right EHR Software
When choosing a solution, seek features that include customizability, easy-to-use dashboard, scheduling tools, advanced business analytics, comprehensive billing solution and exceptional customer service.
DataLink's EvokeEHR is a meaningful-use CEHRT designed from a value-based care provider's point of view that features pre-visit reviews, post-visit quality assurance, attestations and direct integration into Evoke360, a solution that enables data-driven proactive care gap identification, transparency and interoperability.
EvokeEHR enables a medical group to gain more insights and simplifies care delivery and documentation. It also improves quality scores by providing access to gaps in care information, which is critical for maintaining Healthcare Effectiveness Data and Information Set (HEDIS) and Medicare's Star Ratings. Actionable patient lists automatically score the numerators and denominators and allow monitoring of incremental progress over time. Also, unlike most competitors, our EHR solution is risk-based.
For more information on how Datalink Software can help you, contact us today.
---
---