Yasthelle Puig – Value Based Care Education Leader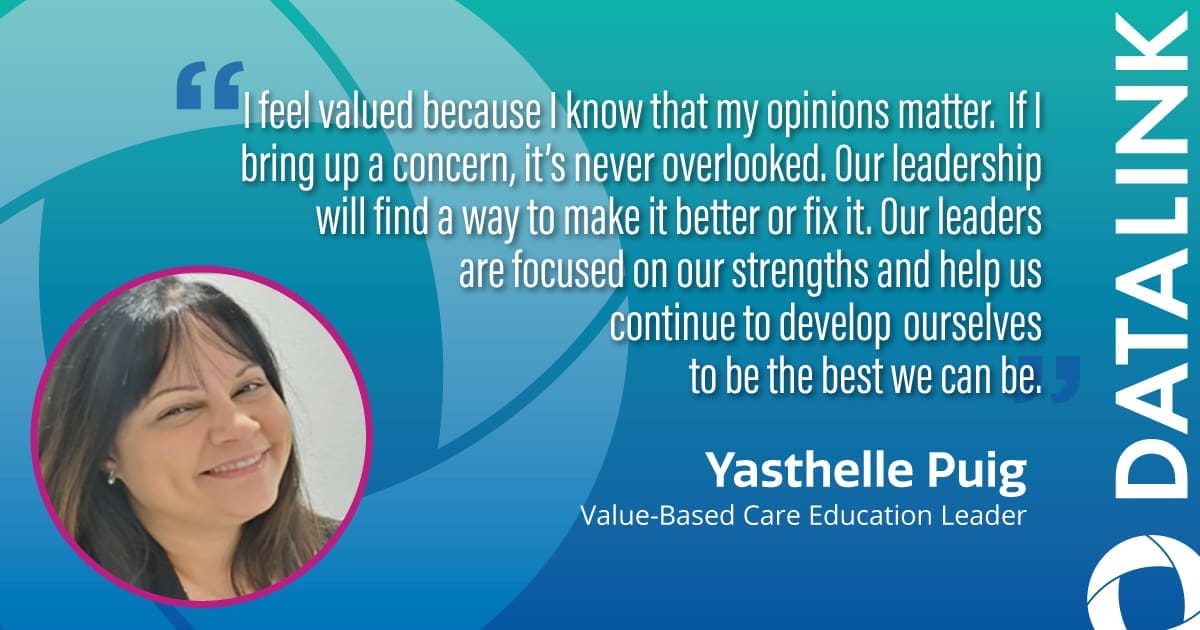 Describe what you do at Datalink - in your own words
As an education leader I am responsible for overseeing the training of all new value-based care managers, maintaining all departmental training materials, SOPs and SharePoint. Serve as a subject matter expert for risk adjustment coding, quality measures and Evoke360 functionality for DataLink and external users. As part of the Value Based Care Team, I also work with provider groups and new clients to support Evoke360 new user training, utilization, and advise on performance improvement opportunities and best practices.
What do you like most about Datalink?
There is so much I can say… One of my favorite things is that although we are a large company, our leadership ensures to know each of us as individuals, we are not just a number, we are family. I have worked at companies where this is an ideology not truly represented by their culture, but I have personally experienced it being a reality here in DataLink. Our company truly value us, not just for the work that we do, but for who we are. They invest in our education, our mental wellbeing and value work and family balance. I love our team and how we are there to support each other. But most of all I love our products; probably the best population health tool I have ever used. It truly gives the information the providers need to have a 360-degree view of the members health to be able to make medical decisions that can positively impact the patients' lives.
Which DataLink value is your favorite? and Why?
Be Accountable & Deliver Results
I have two favorite values. One is "Be Accountable". I love that we accept responsibility for our actions and expect others to do the same. If every organization and individual lived like this in everything they did, the world would be a much better place. Everyone would be fair to each other and think of others above themselves. Each person would do as they should without being monitored or told to do so. My second favorite is "Deliver Results" particularly for my team I feel like we live and breathe this value. Our VBC team is extremely positive, passionate and always strive for greatness. We constantly take action that leads to achieving or exceeding goals and commitments. We take pride in enabling our customers' success. We are focused on not just meeting but exceeding the expectations of everyone we come across with.
How do you put this value to work in your worklife?
My biggest drive in life is to exceed expectations of everyone around me; family, co-workers, and customers. I strive to be the best at everything I do, not to surpass others, but to ensure that I leave everything I touch better than how I found it. Every decision that I make, I think about how it can impact others. If I think that something I have done could have made someone feel bad, I try to always take responsibility for my actions and ask for forgiveness. I am very task oriented, sometimes to a fault, and therefore my vision of delivering results that are a blessing to others can get me in trouble. My life motto is "If you have an observation, you have an obligation". Therefore, if something needs to be done, I just do it, regardless of what it would cost me. I want my legacy and my reputation to be one that my family is proud of. I might be described in many ways, but laziness, procrastination and lack of excellence, or carelessness would never be one of them.
What makes you feel most valued at DataLink?
I feel valued because I know that my opinions matter. If I bring up a concern, it is never overlooked. Our leadership will find a way to make it better or fix it. Our leaders are focused on our strengths and help us continue to develop ourselves to be the best we can be.
What has been the best part about working at DataLink?
Besides all of the things I have already mentioned. For me personally, the flexibility, and family/work balance that working from home provides has been a huge blessing. Being the full-time caretaker or an elderly mom with delicate and declining health, working from home has allowed me to be here for her all day to ensure that she takes her medications, eats properly and when accidents have happened, I was here to offer aid to her immediately. My boss and my coworkers have rallied like family to cover me during moments of crisis allowing me to take care of my mom without fearing for my job.
How have you grown at DataLink?
One of my biggest areas of growth has been with technology and work tools. I have been in the medical industry for over 25 years, but this is the first time I have worked in a software company. I feel like I learn so much every day. All the software development talk is still a foreign language to me, and I still want things to be fixed with the push of a button. I have come a long, long way, and I have made it my goal to learn tricks and tips that I can teach the VBC team every other week regarding work tools (outlook, excel, ect.) Because there is no better way to learn than to have to teach it to someone else.
How has Datalink helped you in your career development?
It has truly opened the doors for me to expand into areas that I never thought possible, not only with additional medical coding certifications, but possibly looking into other opportunities where my experience in the medical field is very beneficial.
Please provide us with a personal quote.
If you have an observation, you have an obligation.
How did you first learn about Datalink
I used to work for one of our clients where I used Evoke360 to do my job as a coder. I was very upset when we were told we were not longer going to pull our reports from it.
Before working at Datalink, what was the most unusual or interesting job you've ever had?
The most interesting job I had was in an office that received all of the pre-employment drug tests done at a walk in clinic. My job was to match hundreds of test results received daily with their paper lab requisition form, type up the reports and send them to the employers. If they were positive test, sometimes I had to translate for the medical director to speak with a patient and find out why their test could have been positive. The stories and excuses were sometimes hilarious and could fill a book.
Best vacation you've been on?
The best vacation ever, was going to Israel for 11 days and seeing all of the places I had read about in the Bible. It truly made the Bible come to live for me when going on a boat ride through the Sea of Galilee. The highlight for me was riding on a camel through the desert and floating in the dead sea.
How do you define success?
To be a blessing and help others live well. The point of life is not to just get by. We want to live well, but our foremost efforts should be to help others live well.
What is your favorite book recommendation and why?
My favorite book is "The 5 Love Languages" by Dr. Gary Chapman, this book transformed my life, my family and my marriage. It allowed me to understand that people need different things to feel loved and unless you know what that thing is, you might be doing all the right things, for the right reasons and the other person will still feel empty and unloved.
---
---