Daniel Garcia, data engineer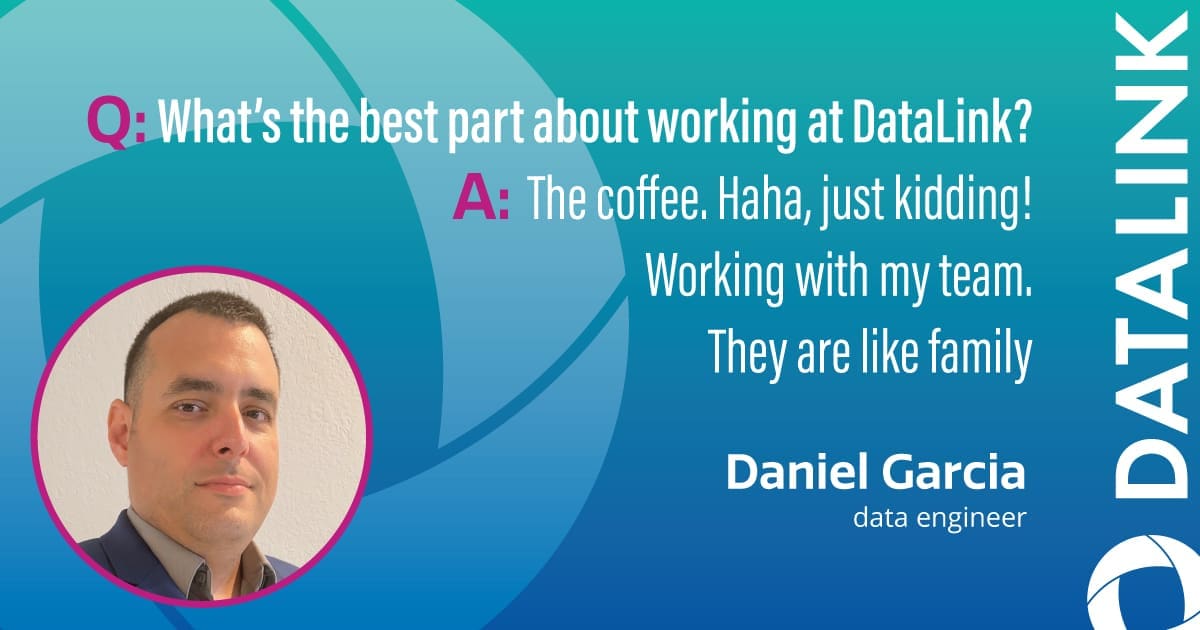 Describe what you do at Datalink
Build and maintain the necessary technological solutions to manage and process the large volumes of data from our clients to the Reckerbox platform efficiently and safely.
What do you like most about Datalink?
The familiar sense in one of the Datalink characteristics that I like the most.
Which DataLink value is your favorite? and Why?
Act with Integrity & Respect
Engage & Grow Together
I believe that Integrity and respect are fundamental characteristics in life and essential for teamwork. Teamwork is the best way to grow and achieve our goals.
How do you put this value to work in your worklife?
Respecting everyone equally and working as a team in a coordinated way.
What makes you feel most valued at DataLink?
Trusting in me Giving me the opportunity to grow and show how far I am capable of going. Challenging myself with new jobs and new responsibilities.
What has been the best part about working at DataLink?
The coffee!!. hahaha, just kidding. Work with my team. They are like family.
How have you grown at DataLink?
Every day one grows. Each new client that I implement, in each solution made for the problems presented, I learn about business as well as new technological solutions to improve our product.
How has Datalink helped you in your career development?
The work I do is so dynamic and diverse that every day I need to find ways to improve and learn new technologies, become Microsoft Azure certified and work with new software to improve work efficiency.
Please provide us with a personal quote.
Data is the foundation, engineering is the bridge, and innovation is the destination. As a Data Engineer, I build the pathways that unlock the power of data and pave the way for transformative solutions.
What is your favorite line from a movie and why?
This is the way!! Set your path, do not deviate and never give up even if someone tells you that it is impossible.
---
---