Meet Jordan Kirkendoll!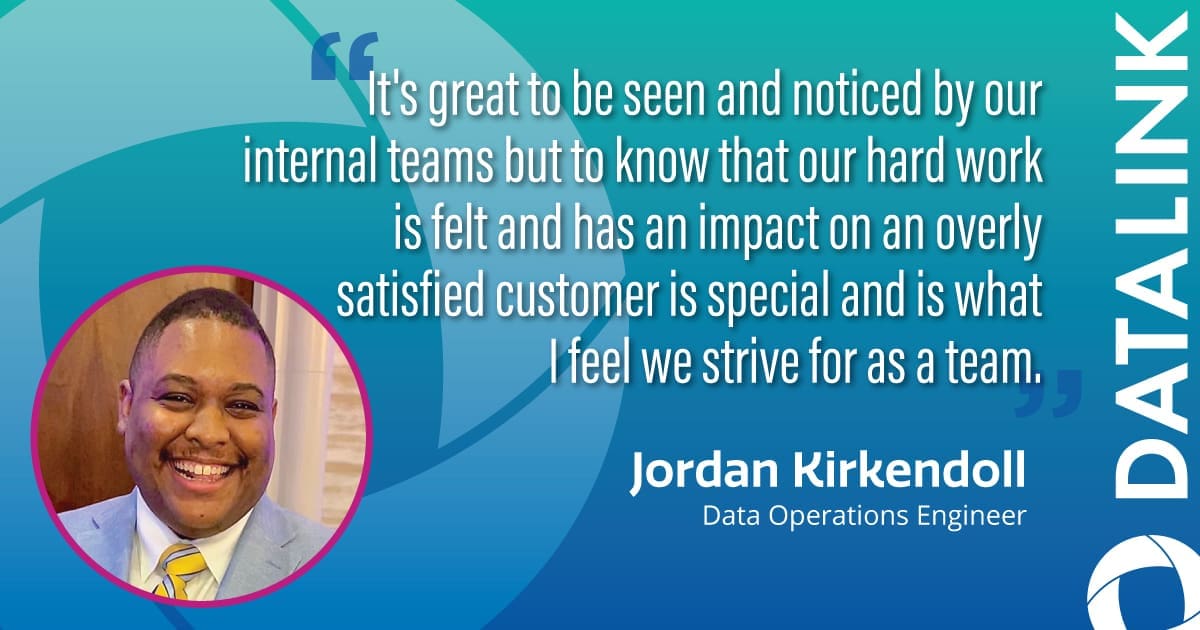 Describe what you do at Datalink - in your own words
I'm a member of the data operations team, and we're responsible for the proper ingestion of client data into our data warehouse which is ultimately leveraged for reporting in products such as Evoke360 and EvokeConnect. I trouble shoot data processing issues as well as investigate data-related defects, such as missing or duplicate data. I work to ensure client data is ingested accurately in a timely fashion. I also work with the account managers to ensure client concerns surrounding data are addressed.
What do you like most about Datalink?
What I love most about DataLink is by far the people that I get to work with every day. It truly is a joy to come to work with some of the most caring and genuine individuals that are all dedicated to providing our customers with the best service possible. The workplace place is so much more enjoyable with team members that are invested in not only the growth of the company but also the growth of each other as we strive to become a better DataLink every day.
Which DataLink value is your favorite? and Why?
Act with Integrity & Respect
Be Accountable
Deliver Results
I believe being accountable is definitely my favorite value largely because it creates a strong sense of trust in my teammates, our clients, and even myself. In my opinion, we can drive positive results by ensuring that our clients can count on us to deliver accurate and complete data in a timely manor. One of my favorite things about being accountable is that it works both ways. Being accountable assures my teammates that not only can they count on me to help out and be a team player but also that I can count on my teammates to ban together in pressing times to deliver. Lastly, I think it's essential that we all hold ourselves accountable because it enables us to be the best version of ourselves in turn making DataLink the best version of itself.
How do you put this value to work in your worklife?
I practice the value of being accountable by making sure I always do what I say I'm going to do. It's important to me to keep my word to whoever I give it to, whether it be a teammate or client, even if it requires me to go above and beyond. Most importantly, I strive to hold myself accountable in the form of constantly trying to learn and grow. There's always room for growth and improvement and taking the opportunity to do so is imperative for growing as a company.
What makes you feel most valued at DataLink?
What makes me feel most valued at DataLink is seeing some of the customer satisfaction and positive feedback after collaborating with the team to deliver results. It's great to be seen and noticed by our internal teams but to know that our hard work is felt and has an impact on an overly satisfied customer is special and is what I feel we strive for as a team.
What has been the best part about working at DataLink?
The best part about working at DataLink has been cultivating fulfilling relationships with my team members here at DataLink as well as with our clients. I've learned so much from a multitude of people here that's invaluable to my growth as a data professional but, most importantly, as a person. The individual contributors here at DataLink truly value each other and care about each other for the betterment of the company and it's amazing to see first hand.
How have you grown at DataLink?
I've grown in a variety of ways since joining DataLink, but I believe I've grown the most in communicating and interacting with our clients. It's been a great experience for me to work with our clients to understand their needs and ultimately develop data solutions that drive positive results and satisfied customers. I've learned the value and importance of developing client relationships built on the foundation of trust that we will provide the best service possible. I've watched other DataLink team members go above and beyond to exceed client expectations and it inspires me daily.
How has Datalink helped you in your career development?
DataLink has been instrumental in my career development by presenting me with challenges that require me to be thorough and detailed oriented on a daily basis. There are a variety of data processes here from simple to complex and having the opportunity to dive deep in these process for the purpose of enhancing them has allowed me to expand my technical skillset. However, with that said the opportunity to help DataLink transition into the cloud is by far the biggest factor that will help me advance my career. As I've been learning the new tech stack that we are moving to, I'm often reminded that these new tools are the future and will be tools that I could potentially be using for the next 15-20 years of my career and having the opportunity to start learning and growing with these tools here at datalink will serve me well for the better part of my career as data professional.
Please provide us with a personal quote.
The strength of the team is each individual member. The strength of each member is the team. You can succeed best and quickest by helping others to succeed.
Before working at Datalink, what was the most unusual or interesting job you've ever had?
Before working at DataLink the most interesting job I had was playing saxophone in a blues band that toured Florida, Georgia, and Alabama frequently. It was a great experience to work with older blues musicians and learn how to navigate life as a young aspiring musician looking to experience the world through music. The lessons I've learned from the tours and festivals are things that I will take apply for the rest of my life.
Best vacation you've been on?
The best vacation I have ben on was a week long cruise around Alaska. It was amazing to see some of the nature phenomenon's that exist in Alaska and no where else such as seeing bears floating on huge planks of Ice floating in the Atlantic. The mountains of Alaska were a spectacle themselves and the opportunity to climb hike a few was unimaginable.
What is your favorite book recommendation and why?
My favorite book recommendation is no question Atomic Habits by James Clear. The key lessons in this book such as "forget about setting goals, focus on your system instead" have helped me to continue to work on my processes for things such as how I learn and improve myself in general. My favorite quote from the book is " When you fall in love with the process rather than the product, you don't have to wait to give yourself permission to be happy. You can be satisfied anytime your system is running."
---
---