Meet Justin Wetzel!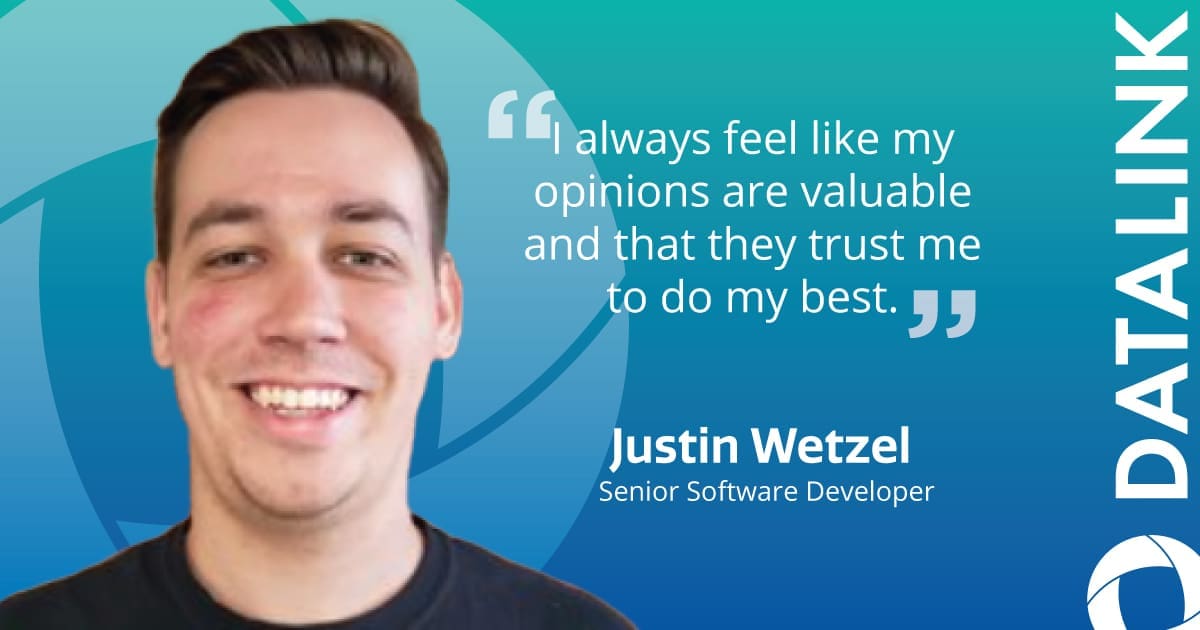 Describe what you do at Datalink – in your own words 
As a Senior Software Developer on one of the Evoke360 application teams, I help plan, strategize, develop and implement any new features needed for the application while communicating with the business side to ensure the customers needs are met. I also take pride in mentoring and helping other developers to best of my ability along the way.
What do you like most about Datalink?
What I like most about DataLink is that I was given a chance to grow here, starting as an intern and working my way up to where I am now. I always feel like my opinions are valuable, and that they trust me to do my best.
Which DataLink value is your favorite? and why?
Engage and Grow Together is my favorite DataLink value because it is the people you work with and collaborate with that make the biggest difference at the end of the day. Fostering an environment where you work as a team, supporting each other towards a common goal, can make even the most difficult task seem trivial.
Do you have a nickname?
Most just call me by my name or Wetzel these days, but once upon a time a few of the other developers would call me Jwetty or Ryan #2 haha.
What's your favorite quote.
Where you end up doesn't really matter, how much you enjoy the journey does.
How did you first learn about Datalink
I was still a student at USF, uploaded my resume to USFs hiring website and received an outreach from DataLink about an internship position.
How has Datalink helped you in your career development?
Before DataLink, I was fresh out of college and the only job I had ever worked was Subway. They gave me chance, the developers here took me under their wing, and I learned more than I ever had anywhere else. I grew confident in my abilities as a developer, as a communicator, and as a leader.
If you could have any superpower what would it be and why?
Probably teleportation, as it would solve my biggest pet peeve in having to waste precious time traveling or sitting in traffic.
How do you define success?
Being happy.
---
---