Patient advocacy and its importance in healthcare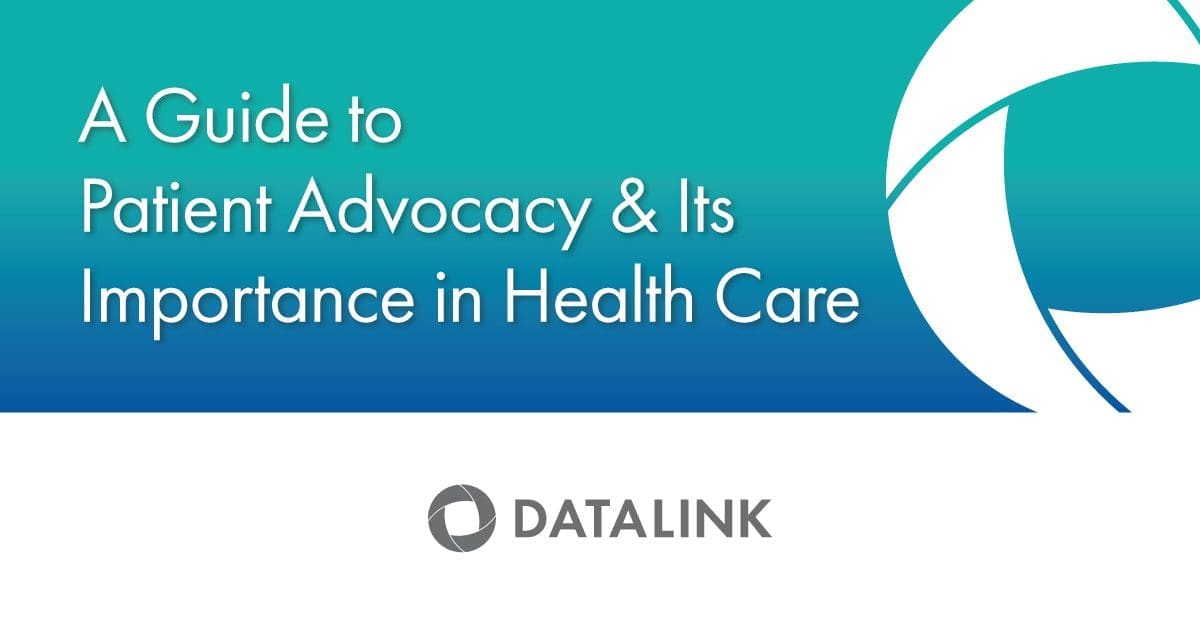 Our team at DataLink expends considerable passion and energy on building an AI platform to help providers manage their workflow in support of value-based care. An essential part of this new era of healthcare delivery is patient-centric care or putting the patient first in the healthcare delivery care chain. But the reality is that patients often feel overwhelmed in the healthcare system. When that happens, compliance for everything from care plans, medications, inpatient follow-up visits, and needed lifestyle changes suffers.
Providers need patient engagement to get better outcomes to meet value-based metrics. The power of a patient advocate reaching out to help, guide and reassure the patient is a critical role in modern medicine. But even the patient advocate needs an advocate.
At DataLink, we don't just work to develop a better overview of a patient's condition to spot opportunities for patients to be healthier and safer. We also provide valuable insight so that patient advocates can carry through their critical face-to-face work with patients. After all, little gets accomplished in our world without relationships.
---
What is a Patient Advocate?
A patient advocate, sometimes called a patient navigator or a health advocate, is often a clinician or social worker and sometimes a trained layperson such as a family member or someone with a customer service background. In short, a patient advocate gives a patient a voice in their care and ensures that providers hear their voice. Traditionally a patient advocate has the experience, training, and insight to navigate and coordinate on a patient's behalf through diagnosis and treatment. However, advocates increasingly work with patients in a coaching role to promote prevention and wellness protocols.
According to the Tulane University School of Public Health and Tropical Medicine, there are several types of patients advocates, including:
Medical Care Navigation: The patient advocates act as a link between clinicians and patients as a translator and coach. As such, they make sure that patients get needed medical appointments and that patients attend those appointments. This includes follow-up with specialist appointments and making sure that all of a patient's providers are aware of medical decisions and orders, including prescriptions. They also oversee the relationship to be sure that patient rights are supported. Medical care advocates use their clinical knowledge to explain complex medical information and diagnosis to their patients. And they also identify needed medical resources for their patients and make referrals for that support. Above all, they get to know their patient and build a relationship based on trust and respect.
Placement Navigation: These patient advocate specialists coordinate the transfer of care between primary care physicians and hospitals for admission or discharge to outpatient follow-up care. The number of such placement advocates increased considerably when the CMS adopted its Hospital Readmission Reduction Program in 2012. Under the rule, hospitals were no longer reimbursed for inpatient readmission within 30-days of discharge. With the passage of the rule, hospitals began to be concerned about issues that were not previously their concern. These factors include can/does the patient: safely get to the bathroom (mobility); have enough nutritious food to aid recovery; have money to buy prescribed medication; and, have transportation to travel to follow-up doctor appointments. Patient advocates who filled that role, especially for older patient services, are now being tapped to coordinate wellness and prevention goals. Patient advocates also serve the same coordinating role to place patients in needed settings such as nursing homes, assisted living, and rehab centers.
Other areas of healthcare delivery where healthcare advocates/navigators serve include:
Medical billing
Health insurance
Legal/risk issues
Mental/behavioral health
Palliative care and end-of-life
Pain management
Administrative
Child life advocacy
Housing
It's important to remember that any patient advocate/navigator must access all of a patient's data to best do their job. This is where a high-functioning AI platform serves both patients and providers to meet value-based delivery metrics.
---
Why Advocacy is Needed in Health Care
Greater National Advocates, a nonprofit that connects independent patient advocates with patients and their families, cites several reasons why a patient might consider the services of a patient advocate. These include:
Lack of hospital responsiveness to a patient's need.
Bedside support and companionship.
Ensuring a safe patient care environment.
Understanding and complying with treatment discharge instructions/orders.
Coordinating doctor/patient communications to answer questions on both sides.
Insurance and billing issues that can stress a patient's recovery.

Assisting in managing a change in health or a health crisis.
When Congress established the Patient-Centered Outcomes Research Institute (PCORI) in 2010, this action, in effect, started the healthcare delivery model on the path to patient-centered care. The nonprofit PCORI states its goals as:
Our Vision: Patients and the public have the information they can use to make decisions that reflect their desired health outcomes.
Our Mission: PCORI helps people make informed healthcare decisions, and improves healthcare delivery and outcomes, by producing and promoting high-integrity, evidence-based information that comes from research guided by patients, caregivers, and the broader healthcare community.
To this end, PCORI has awarded $3 billion in research grants on daily healthcare challenges that American families face. For example, a 2020 study revealed surprising information about type 2 diabetic patient self-monitoring. The study had significant implications for remote patient monitoring and patient engagement initiatives, a finding that placed patient advocates along with primary care providers as gatekeepers to translate the results into wellness and prevention changes.
Patient advocacy is about effective communication. It seems a simple notion, but until the last decade or so, patients and their families had to serve as their own advocates. It was not an effective system. One study found that only 12% of U.S. adults have the health literacy skills to manage the demands of a complex healthcare system. It's no surprise that trained and knowledgeable patient advocates have quickly filled the knowledge deficit.
---
Examples of Patient Advocacy
One patient advocate offered several examples of real-world cases that benefitted patients. These include:
Case 1: 64-year-old male complained of flank pain.
Patient Advocate:
Got him to a urologist for an evaluation.
Coordinated the patient's x-rays and lab work.
Escorted patient to the hospital when surgery was necessary.
Created a pre-op and post-op care plan.
Monitored the patient at home, post-op.
Case 2: 42-year-old female was diagnosed after a breast cancer biopsy.
The patient was referred by her boyfriend, a physician. The patient had never been to a hospital and was very apprehensive.
Patient Advocate:
Helped the patient obtain information about the diagnosis.
Educated the patient on what portions of her medical records were essential to have in her possession.
Created a treatment plan, pre-op, surgery, and post-op.
Help the patient coordinate her team of medical professionals involved in her care.
Met with her in the hospital before surgery and stayed with her family during surgery.
Monitored her post-op care.
Case 3: 54-year-old male injured his finger at work and got an infection.
Patient Advocate:
Arranged for Emergency Room visits.
Coordinated a plan of care and questions for the patient to ask his health care team.
Facilitated a 2nd opinion to a hand surgeon and post-op care.
Assisted with a physical therapy evaluation.
Continued to monitor the infection.
---
How to Become a Patient Advocate
It requires empathy, patience, good organizational skills, and a sense of polite assertiveness to be a good patient advocate. While many patient advocates have a clinical background, others have social work and even a customer service background.
Many patient advocates are self-proclaimed, offering extensive experience in the healthcare system coupled with a keen desire to help people. Many come to the field with advanced degrees in public health or patient education. However, this is starting to change. The nonprofit Patient Advocate Certification Board offers the gold standard of certification, common in the healthcare field. There are some degrees in an online search, both master's and bachelor's degrees. However, these degrees appear linked to health administration programs.
---
Patient Advocates Require a Seat at the Data Table
The path to value-based healthcare is gradual – but increasing. The value-based delivery market has risen from 23% in 2015 to 38% in 2019. While patient advocacy is undoubtedly a valuable tool, it is still a service powered by instinct. At DataLink, we want to empower patient advocates to deliver results more efficiently and accurately based on data.
According to a just-published HealthAffairs analysis, "we have been at the beginning of the transformation to value-based health care for too long." The site calls for:
A shared commitment to patient needs, experiences, and perspectives as key drivers in measuring value;
Clarity around exactly what changes in practice and process are needed to reframe health care decisions around patient-centered value; and,
An environment that incentivizes, rather than discourages, investment in infrastructure and practice change, including the development and sharing of data that supports a rapid learning cycle.
For example, the Datalink Evoke 360 AI platform deploys EHR and other database interoperability to proactively identify open care gaps, prioritize high-risk patients, give a 360-degree view of patients' health status, improve documentation, and a host of other insights needed by patient care advocates. In the Evoke 360 universe, patient advocates become vital contributors to the primary care team in meeting value-based metrics. For the patient, the platform equals a better care journey in meeting wellness and prevention goals and improved care coordination.
---
---