DataLink Empowers Providers with Interoperability and Value-Based Workflows to Support Transition to Value-Based Care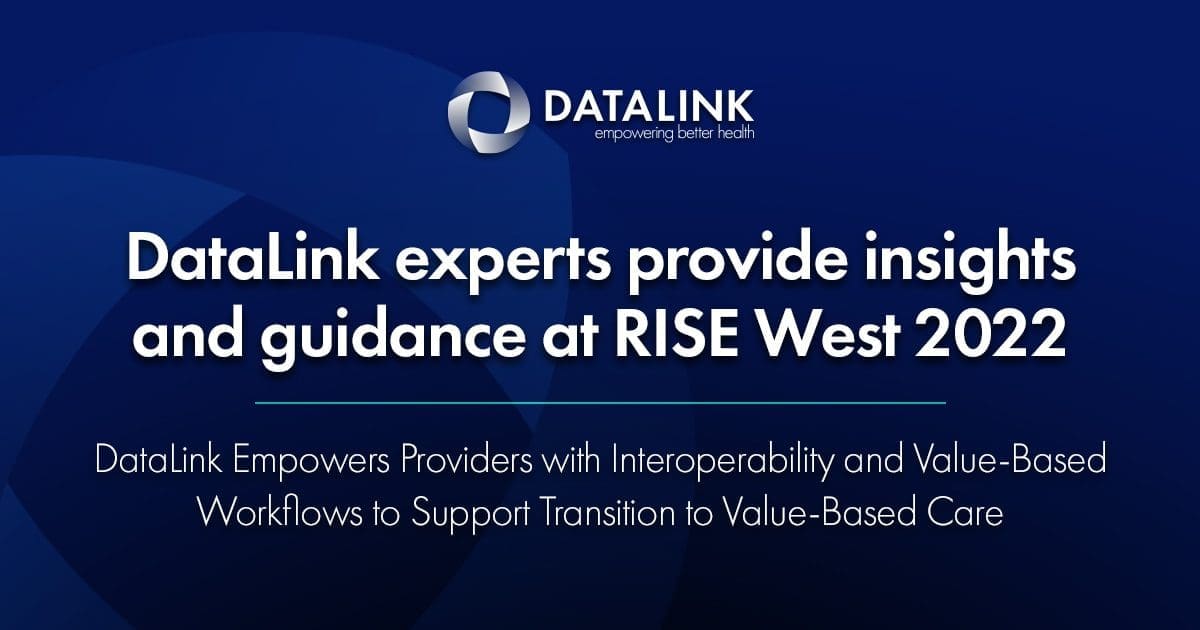 Visit the DataLink team at booth #

210
DataLink experts provide insights and guidance at RISE West 2022
Data Link again takes the lead in providing senior level managed care decision-makers with education and guidance on ways to achieve interoperability, ensure care quality and streamline workflow.
At the upcoming RISE West 2022, Los Angeles, CA, August 31-September 2, 2022, Danielle Hajeski, director of business operations and interoperability, DataLink will host an interactive round table titled Quality Attestation Module, Thursday, September 1st, 5:20-6:20 PM.
Hajeski will direct the 20-minute interactive discussion that presents best practices related to chart documentation, HCC code capture and audit readiness at both the provider and health plan levels:
Creating streamlined abstraction workflow for quality gap closure
Providing automated gap closure through interoperability to reduce leakage
Ensuring real-time quality gap information for providers at the point of care
Learn Even More: Built in Interoperability with Evoke360
DataLink leaders will be onsite, in the exhibit hall at booth #210 and in education sessions, and invites participants to schedule a personal meeting.
DataLink, a leading provider of integrated population health applications and value-based care performance management solutions, will be on hand to present the capabilities and functionality unique to the DataLink Evoke360 platform: offering a 360-degree view of the patient and built from a mindset of true data transparency.
Evoke360 is a management solution offering comprehensive insights related to chronic conditions, pharmacy, laboratory tests, gaps in care, social needs, HEDIS® and risk adjustment metrics. This extraordinary clinical, operational and social determinant data platform provides visibility into all health plan operations in one point-of-care solution.
Appropriately named Evoke360, this management solution delivers a 360-degree view of the patient that informs actionable insights for patients in any care setting, simplifying the care journey and improving quality of care. Dynamic dashboards and reporting offer providers visibility into all health plan operations in one point-of-care solution, enabling providers to optimize quality, reduce administrative burdens, implement value-based care and enhance financial performance and communication.
---
---